Myofascial Sports Recovery Stretch
Conveniently located to serve the areas of Beverly Hills and Los Angeles, CA
The larger picture of continued attention to myofascial stretching at Element Fitness will be significant improvements in flexibility, mobility, injury prevention, performance and range of motion. Our myofascial stretch is the perfect complement to an intense EMS personal training session or any routine strength training regimen.
About Sports Recovery Stretch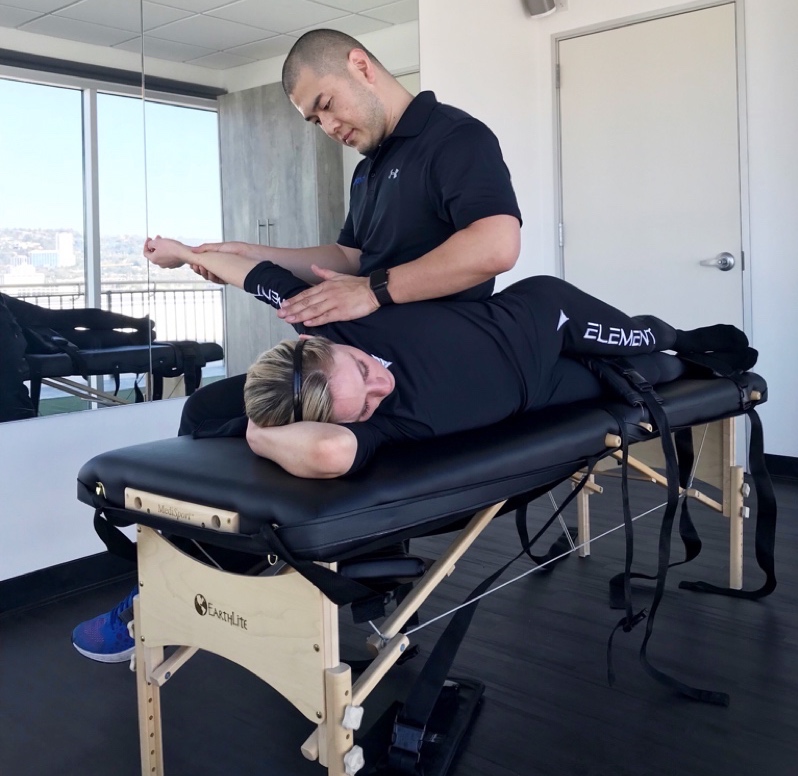 Myofascial Sports Recovery Stretching at Element Fitness is primarily used as a dynamic post-workout recovery technique that coincides with our unique and intense EMS (Electrical muscle stimulation) training. In addition and unrelated to EMS, we also conduct treatments for clients who due to an injury, ailment, chronic condition, or for conditioning and maintenance purposes are in search of a hands on recovery method.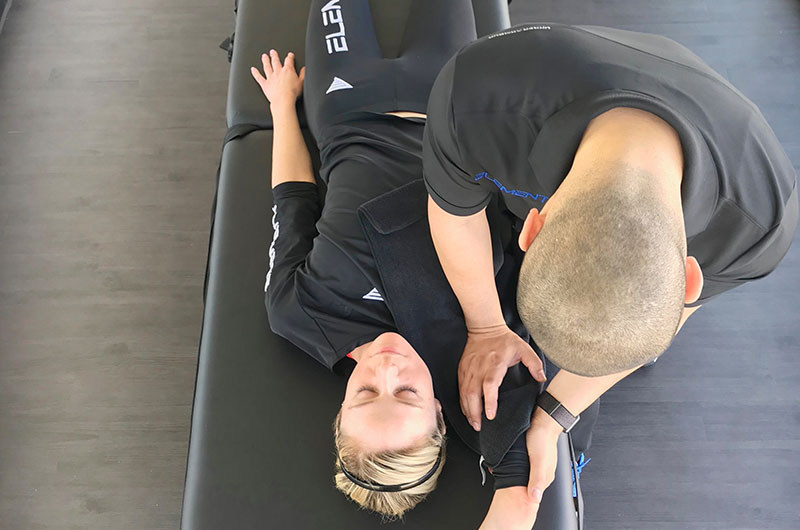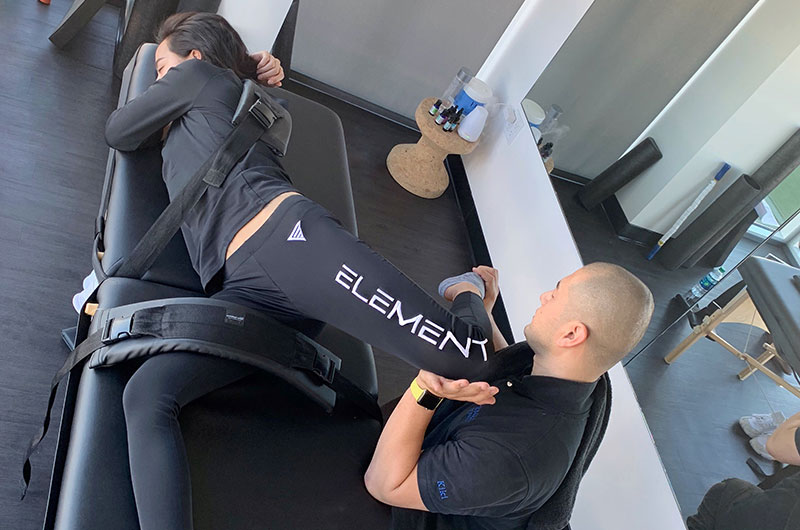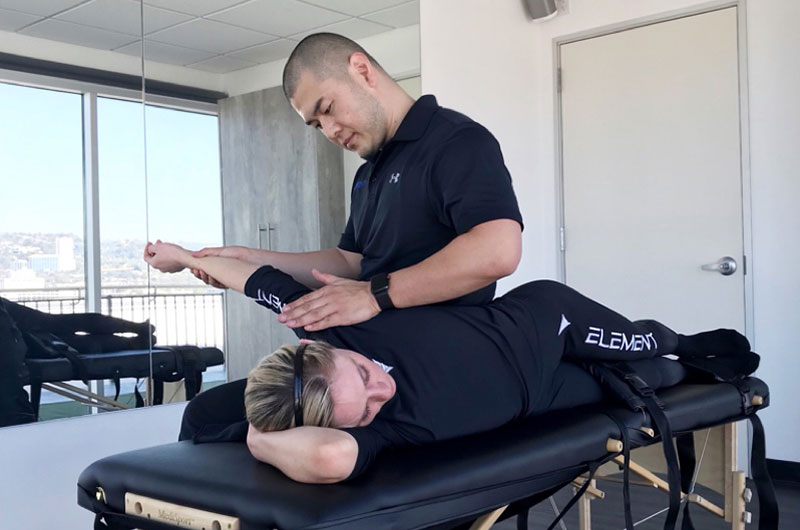 Benefits
The client benefits from this treatment in a number of ways. The unique aspect of our service is that we take the time to assess the client's current physical condition, ailments, physical activity, body composition, and current routine prior to stretch. Each client is unique and each treatment should be tailored to them to ensure we are addressing the areas needed to improve performance, flexibility, and help to reduce and relieve pain experienced by injuries or tightened muscles.
Candidates
Our stretch is for everyone, however, it can be very beneficial to those who have had previous injuries, current or former athletes, or for those who have chronic tightening of muscles.
There are cases where a client has a certain injury that will disqualify them from the treatment if the injury inhibits movement in specific directions, or if the stretch is to take place too soon following the sustained injury.
Our Myofascial Stretch
Potential clients will arrive on the day of treatment and meet with one of our trainers or staff members to complete the necessary paperwork, and an explanation of the services and what to expect moving forward.
Recovery the right way. Improve your flexibility and prevent injury with our individualized Myofascial Sports Recovery Stretch.
A Single Myofascial Sports Recovery Stretch treatment at Element Fitness includes an initial consultation, followed by a 20-minute Myofascial Sports Recovery table stretch.
Our Stretch rooms are a private treatment room with a modified stretch table with straps that is specifically designed to accommodate a full body myofascial stretch treatment. The room itself is positioned with a picturesque and elating view of the hollywood sign and the essential oil diffuser provides further relaxation for the treatment.
Following the introductory stretch, the potential client will meet with one of our staff members to follow up on their experience, and to review options available for purchase, as well as any current specials or promotions.
Preparation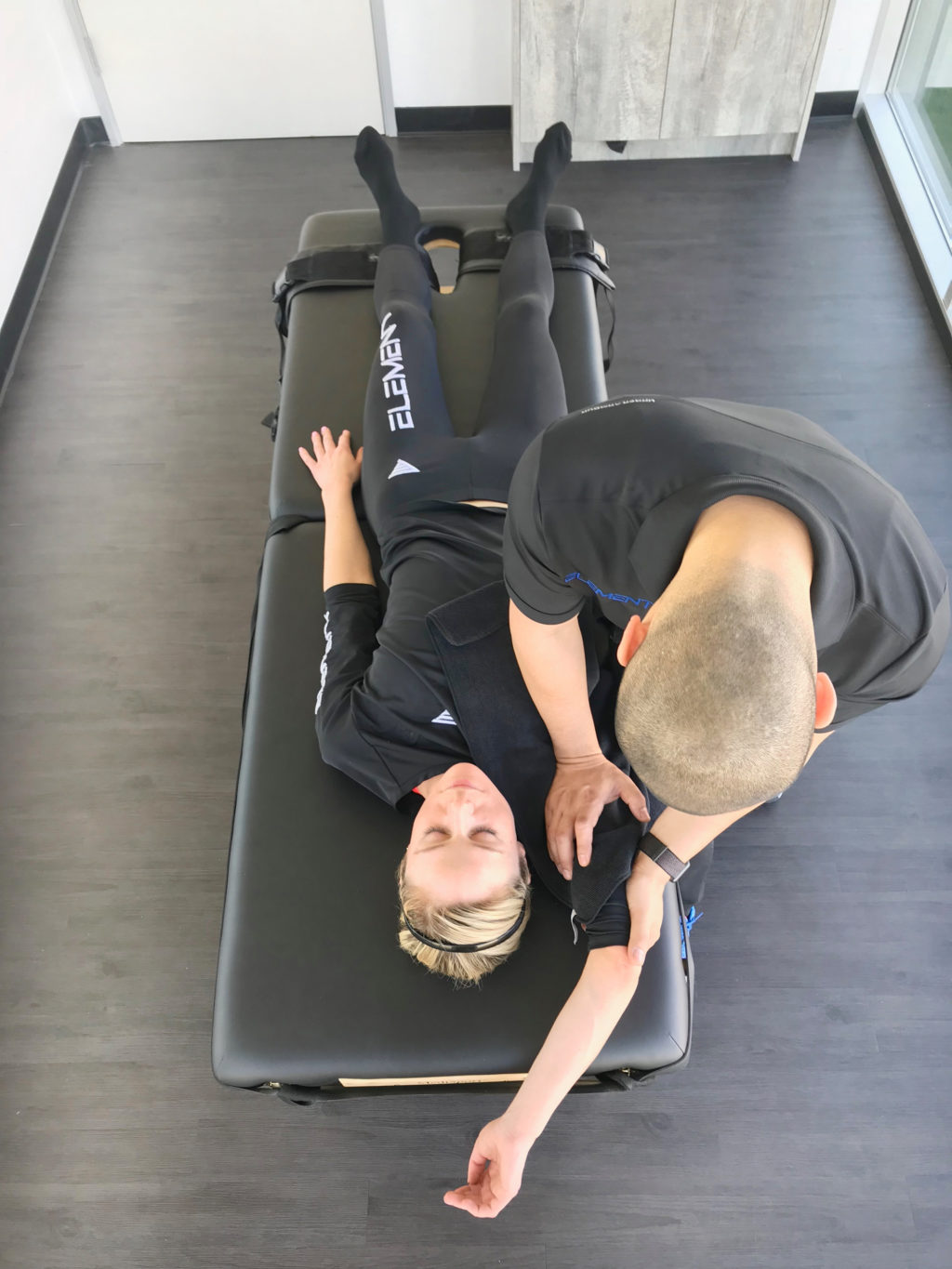 Each client will need to fill out some documents including a waiver prior to participating in services at Element Fitness. This is often done online prior to arrival in studio.
We ask that clients who come in for Myofascial stretching warm up their muscles prior to their appointment with 10-20 minutes of brisk cardio activity to safely prepare their muscles for the stretch treatment.
Element Fitness provides high quality stretch undergarments for every client to wear during their treatment.
Ongoing Stretch Treatments
First-time clients will meet with one of our trainers of staff members for an introduction on our stretching method and to complete the necessary scanning and paperwork prior to the treatment. After that they will meet our stretch therapist and they will have a short consult with the client prior to commencing the stretch treatment.
We offer both 25 and 60-minute treatment options. The stretch is often paired as a complement to our EMS training program and many clients come anywhere between 2-3 times per week as needed. Add-on treatments can be purchased if additional treatments are needed/desired.
Recovery
Many clients feel relaxed, and sometimes instant relief in troubled areas. As with any recovery method, continuing treatments will boast the most long term benefits in flexibility/increasing range of motion, and prevention of injury while strength training.
Clients should always stay hydrated, but post-stretch protocol will often be tailored to the individuals current physical condition.     
Results
Clients can enjoy long-term benefits in increasing neuromuscular efficiencies, correction of muscular imbalances, and increased physical performance.
Maintaining a myofascial stretch routine will allow the elongation of both the collagen and elastin parts of the fascia which exponentially improves the efficacy and longevity of each stretch thus improving felxibility.
Element Fitness Stretch Bundles
EMS/SRS Program
EMS (Electro muscle stimulation)/SRS (Sports Recovery Stretch), Scanning and assessments.
A la carte Pricing
Per session cost $85, can range between $60-$85/treatment for multiple purchases
Element Fitness provides highly customizable training and recovery programs that are unparalleled in the industry. No matter your current routine or physical condition, our technology-based solutions will help you achieve sustainable results.
FAQ
How do you stretch your fascia?
The fascia tissue is a band of collagen and elastin connective tissue that connects, stabilizes, and separates bones, muscles and organs.  Fascial stretching is the lengthening (expanding and retracting) of this connective tissue.  
Why is my fascia so tight?
Over time and with repetitive daily movements and/or a sedentary lifestyle of sitting and driving can tighten the muscles, with time your fascia will tighten and become rigid with your muscles.  
Does massage break up fascia?
There are multiple techniques used to break up and release fascial tissue.  At Element Fitness, we use myofascial stretching techniques stabilizing limbs and focusing on the specific areas in need of addressing. 
What causes fascia knots?
Fascia knots are the tightening and tensing of the facial tissue. The most common causes for fascia knots are from previous injuries sustained, repetitive movements, and incorrect or poor posture that leads to the chronic tightening of certain muscles.   
Element Fitness is the premier EMS Personal Training solution in Beverly Hills. By offering customized fitness programs based on your goals and expectations, we can assist you in meeting, and exceeding your goals. If you are ready to crush your fitness goals in 2020, contact us today to schedule your trial session with one of our expert EMS trainers!