LED Red Light Therapy
Conveniently located to serve the areas of Beverly Hills and Los Angeles, CA
Red Light Therapy Treatments can be effective as a complement to a sound training and nutrition program. Because they are a non-invasive approach to a procedure like liposuction, they do require a protocol in order to achieve and maintain positive results.
About LED Light Therapy in Beverly Hills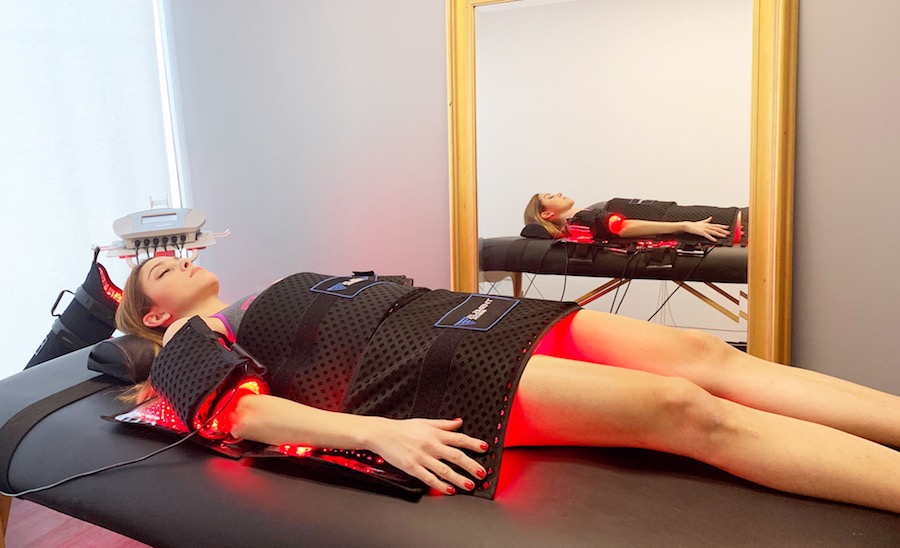 LED Light Therapy, or Red Light Therapy is a procedure utilizing both LED (light emitting diodes) and IR (Infrared) light at corresponding therapeutic wavelengths. While there are a number of different delivery systems for Red light therapy, Element Fitness delivers this light energy in a body wrap form to further maximize the light on specific areas of the body. We have the ability to administer full-body Red Light Therapy Treatments from arms, legs, torso and face.
Our treatments are 20 minutes long and can be administered for an individual from 3 to 5 days/week.
At Element Fitness, LED Red Light Treatments are offered as an additional perk for our clients who purchase select session programs, or an annual membership.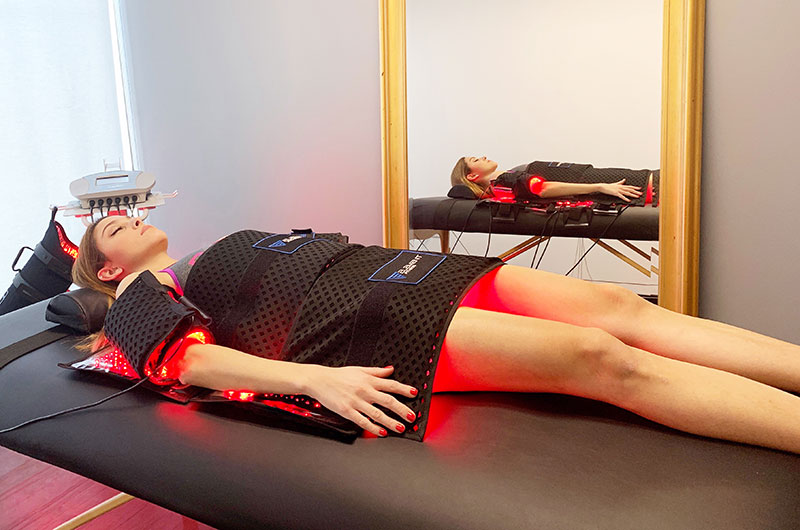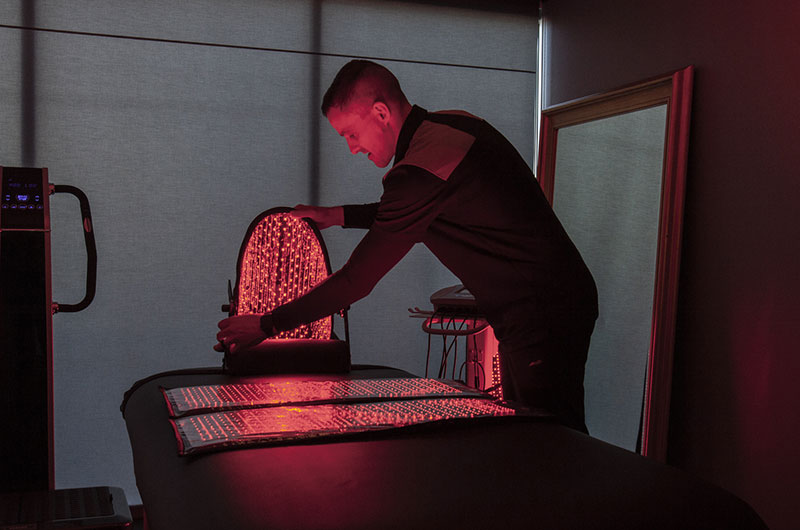 Benefits
Red Light Therapy has many benefits to the human body that are both beneficial for aesthetic appearance and full-body rejuvenation. Red light therapy has the following benefits:
Body Slimming
Red light therapy can be a non-invasive supplement to reducing the amount of subcutaneous fat throughout the body.
Skin Health and Anti-Aging
Red light Treatments can help boost the natural production of collagen which has been known to improve skin tone, completion, and reduce the signs of aging.
Inflammation
Studies have shown that Red Light Therapy can help reduce joint pain and inflammation in individuals who suffer from arthritis and similar conditions.
Sleep
Unlike artificial light, RED Light can help reset your internal clock by naturally increasing the production of melatonin.
Recovery and Performance
RED Light Therapy can have a measurable effect on muscle strength and thickness when paired with a regular exercise routine.
Preparation
A client can prepare for a treatment by not consuming any food 2 hours before (and after) the treatment, drinking lots of water. Women are asked to refrain from wearing makeup for those who are using the face mask. On the day of treatment, a client will be escorted to the treatment room and one of our administrators will assist in preparing the body wrap and be available to answer any questions should they arise.
Clients are not required to physically wear or bring anything for a treatment!
Prior to your first session, a trainer will send you the required paperwork needed to fill. Paperwork is always filled out prior to the first or introductory LED treatment. During this time we will explain the benefits, process, and let the client know what to expect before, during, and after the treatment.
Our LED Light Therapy Session
Our potential or existing clients will first meet with one of our concierge staff members who will go over the treatment, explain the process, and have the client sign the necessary forms prior to conducting the treatment.
A RED Light Therapy Treatment at Element Fitness consists of a 20 minute treatment, followed by either 5 minutes on our vibration plate for lymphatic drainage, or 20 minutes of intense cardio on a treadmill.
Our delivery method for Red Light Therapy is in body wrap form, consisting of 4 large pads, 2 small pads, and a face mask with the capability to accommodate a full-body treatment.
Ongoing Therapy Sessions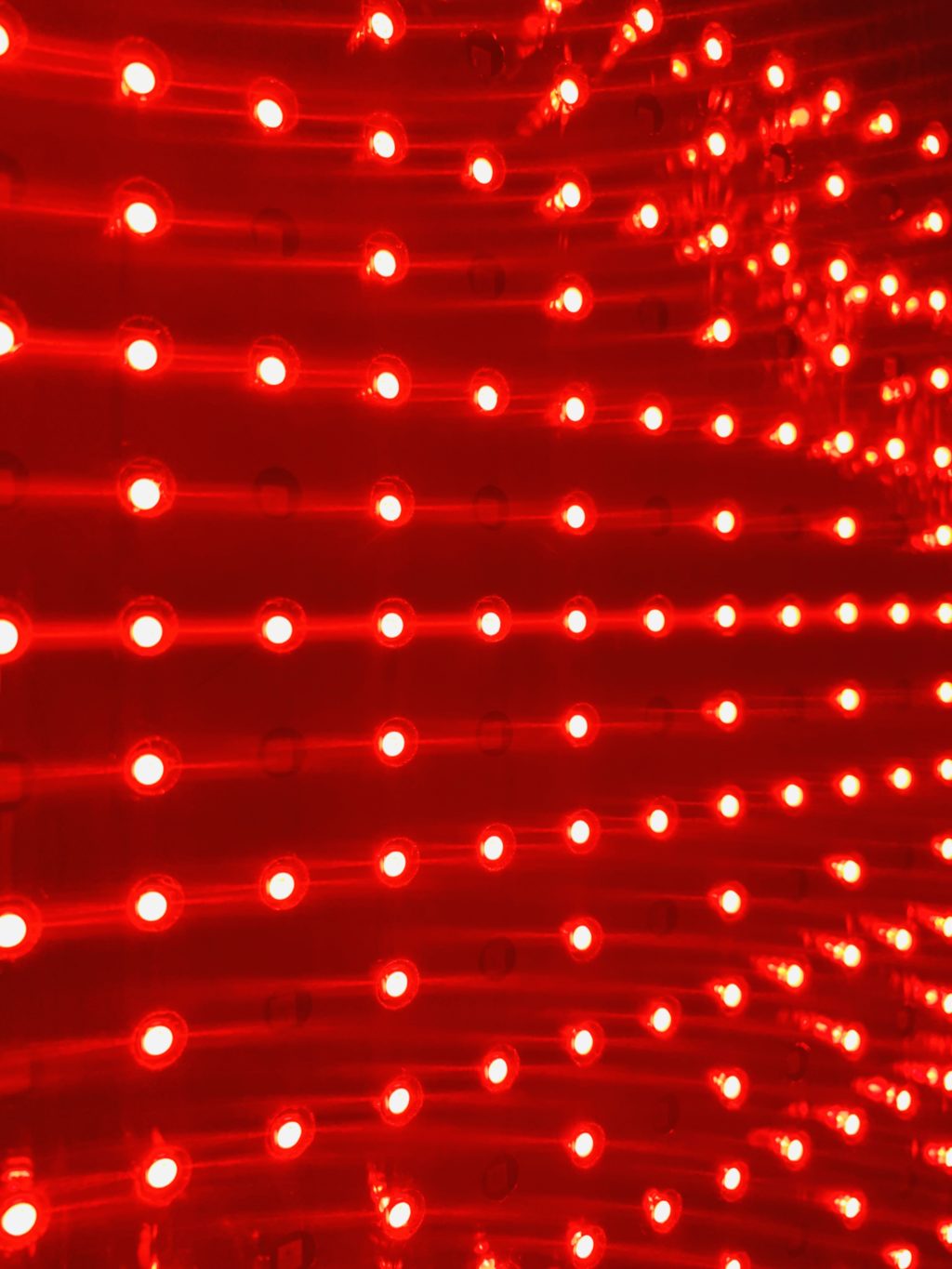 LED Red Light Therapy treatments are administered by the concierge staff or qualified member of management. All clients will check in at our reception area and will be escorted from there.
Treatment protocols will vary from one client to another and are dependent on physical condition at the start of the treatments. Treatment periods can vary between 10-12 treatments for individuals of normal weight range, and 12 or more depending on physical condition.
Results
Clients can see results immediately depending on the individual. Clients have lost anywhere from 2-18inches over the course of a series of treatments. Individual results of course do vary.
Call or visit our studio to learn more about our LED Red Light inclusive programs!
Recovery
Clients will feel warm and relaxed, as many fall asleep during the treatment. Our treatments can be described as being wrapped in a warm blanket.
We ask that clients do not eat for 2 hours following the treatment, and avoid alcohol and caffeine as much as possible during treatment periods.
Clients may or may not feel a difference after their first treatment. Clients can utilize our 3D body scanner results for full body circumference measurements which can often provide a visual of aesthetic changes to the treated areas of the body.
8 Session
Includes 8 EMS Sessions/ 8 Stretch Treatments / 1 Nutrition Consultation / 4 LED Treatments
16 Session
Includes 8 EMS Sessions/ 16 Stretch Treatments / 2 Nutrition Consultations / 8 LED Treatments
20 Session
Includes 20 EMS Sessions/ 20 Stretch Treatments / 3 Nutrition Consultations / 10 LED Treatments
A la carte Pricing
$125/ session
Element Fitness is the premier LED Light Therapy solution in Los Angeles. By offering customized fitness plans based on your goals and expectations, our trainers can assist you in meeting, and exceeding your goals.
FAQ
How often should you have LED light therapy?
LED Red Light Therapy is commonly administered between 2-5 days/ week.  The frequency of recommended appointments will depend on your physical condition and level of physical activity.  
Do you wear clothes during red light therapy?
You can wear clothing, however, the treated areas must be exposed and have direct skin-to pad contact throughout the duration of the treatment. Often people only wear undergarments for treatments.   
Can you use light therapy twice a day?
While it is possible to do RED Light Therapy twice a day,  it is recommended once per day.  
Do you need eyewear for red light therapy?
If you will be treating the facial area, we have eyewear for you to use to make the process more comfortable.  
How long does it take for light therapy to work?
Results can be seen immediately depending on the individual.  Clients have lost anywhere from 2 inches to 18inches during a course of treatments.  
Does light therapy help anxiety?
Limited anecdotal studies have been conducted where LED Red Light Therapy Treatments under therapeutic wavelengths such as the ones Element Fitness uses can have a positive effect on anxiety.