What is the relationship like between a client and trainer? The trainer is a coach, analyzing, assessing, and guiding the client through their custom EMS workout.
Most clients have the same dedicated trainer. Some have multiple trainers. The client depends on our trainers for designing workouts according to their individual needs and goals. The trainer provides accountability in coaching the client and providing guidance when needed.
Our trainers are specialists in their industry, each with a unique focus, whether it be muscle building, fat loss, group training, or sport-specific or corrective exercise. The job is to conduct 1-1 personal training sessions with each client using EMS technology to further customize their experience.
What is Element Fitness?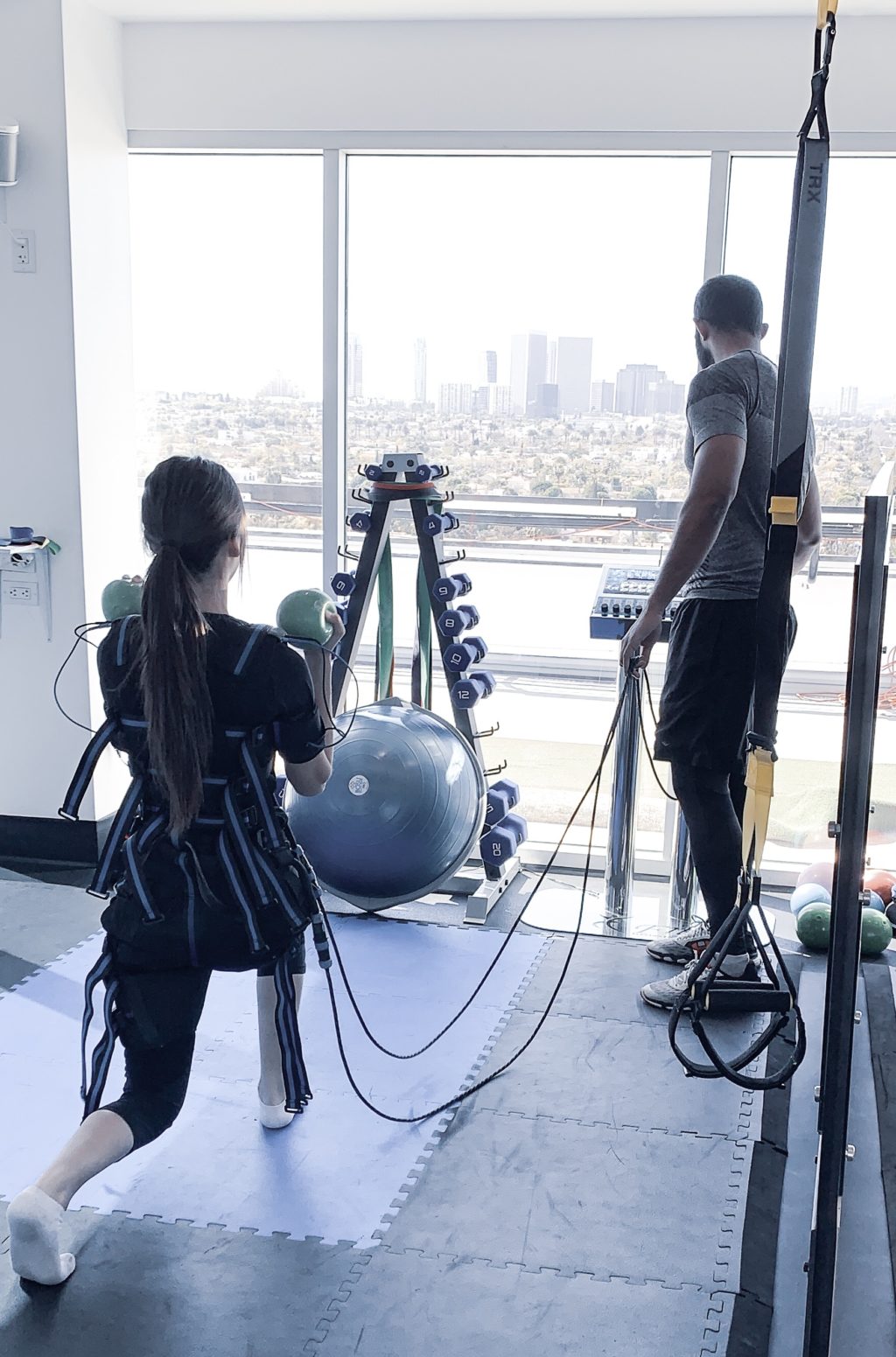 Element Fitness utilizes cutting-edge EMS technology to ensure that members are making safe and long lasting advancements on their journey to improving their health through their workouts.
EMS or NMEMS (neuromuscular electrical stimulation) utilizes low-frequency electrical impulses to send clean electrical stimulation to muscle fibers. Electrodes are placed within the jacket and vest on all of the major and minor muscle groups of the body. Notably each muscle group can also be individually controlled to further the customization and intensity of the workout.
There are many positive benefits of EMS workouts that far outweigh traditional training methods.
Some of those benefits are as follows:
Effective
During an EMS session, no matter what exercises you are doing, electrical impulses are simultaneously sent throughout your entire body stimulating all major and minor muscle groups by eliciting muscle contractions as you work against the impulses. This provides for a much more effective and results-oriented workout.
Efficient
One 20-minute EMS training session (minus relaxation) is the equivalent to achieving a rigorous 90-minute workout in the gym. While hard to believe, once experienced, clients will see the benefit of this time-saving method.
Safe
By utilizing the EMS device, we are able to decrease the amount of weight a client lifts while training. Instead we focus on instruction of the proper movement and form to help prevent injury in the future. Our goal is for the client to be able to conduct these exercises on their own.
Element fitness believes in balancing all "Elements" of achieving long term health and wellness and we expect our clients to be serious about achieving results stay committed to the program.

What makes Element fitness stand apart from other gyms?
Element Fitness is one-of-a-kind in both the services we offer, and our technology-based approach to health and wellness. Our fitness offerings are completely customized to the individual; whether it is our personal training program, sports recovery stretch, or individualized nutrition counseling with a registered Dietitian.
Each client is unique and should be treated that way.
Furthermore, utilizing the latest fitness technology in EMS training allows us to provide cutting edge personal training in a fraction of the time. In addition to our training, recovery and nutrition program, we also offer LED light therapy for body slimming and cellular regeneration, and compression therapy to minimize inflammation following an EMS session.
What are the benefits of hiring a personal trainer?
Our personal trainers hold multiple certifications and are EMS certified to provide a safe and effective workout. In addition, personal trainers at Element Fitness conduct comprehensive scanning and assessments on each new client. This enables our trainers to design a personal training program of workouts that are tailored to the individual goals and needs of each client.
How to decide on a personal trainer?
A personal trainer should be informative, attentive, inquisitive, and sensitive to the client's needs. Our trainers want to learn as much as possible about each client's background, so we conduct an extensive intake process for our personal training programs.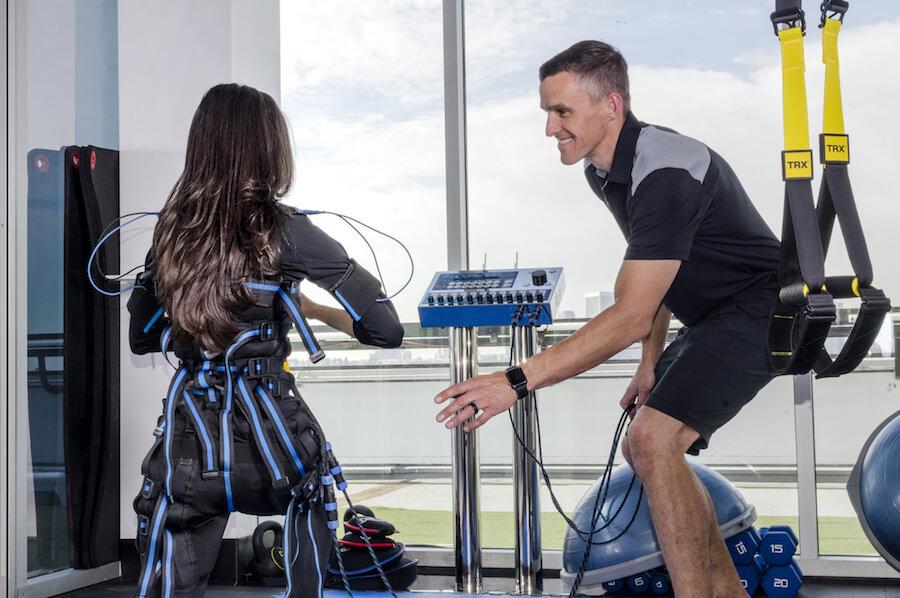 Mini-consultations are often offered during a trial of personal training services at most gyms/studios. No matter how brief it is, it is extremely important for a trainer to learn as much about the potential client prior to training them. Injuries/ailments or contraindications to EMS training are the most common topics that need to be addressed prior to a trial training session.
Qualifications You Should Look for in a Trainer
Experience
Specialization
Certification
Philosophy on health and wellness
Who are the personal trainers at Element Fitness?
Element fitness personal trainers are specifically trained to use EMS technology safely and effectively. We strive to provide the highest level of customer service possible to each and every client.
Clients at Element Fitness know that we care and are invested in their personal success.
Almost every client we qualify in-studio has little to no knowledge of EMS technology, and no knowledge of its application for fitness. We provide an explanation of the technology as we tell the client what to expect for their first session.
Element Fitness is dedicated to improving the lives of our clients through the use of innovative technology. We provide an efficient, comprehensive, results-driven fitness program. We inspire and encourage our clients to achieve sustainable results.
What is it like working with a personal trainer at Element Fitness?
For a client, the experience is seamless. Our trainers handle everything, from initial intake and assessments to program design and after support. We provide monthly follow-ups for all clients. The only thing the client must commit to is making the changes and/or adjustments to their current lifestyle that are necessary to see results.
Schedule a trial session today with the knowledgeable trainers at Element Fitness!
Our trainers are hands-on with each client. They are well-versed in our training method, training styles, and proper nutrition. Come experience the difference for yourself today!
Why choose Element Fitness in Beverly Hills?
Element Fitness is unlike any other fitness center in that we offer the ability for clients to maximize their precious time while not having to compromise results. The amount of muscle contractions achieved in just 1-20 minute session is impossible to achieve with traditional strength training in a gym. Prime candidates for EMS training are people who want to save time, do not like strength training, or have injuries preventing them from strength training at a gym. In addition, many of our clients are fed up with fighting for machines at busy gyms, so they opt for a more private, personal and streamlined program at Element.
Our trainers and Dietitians have access to our HIPPA compliant software platform to provide clients with the information needed to stay accountable for their actions.
Every new client will download our mobile app to connect with their trainer and dietician via text or video chat. Clients can view and change their schedule or log workouts and meals. This is the support component that ties our programs together, setting us apart from the rest. Schedule a trial session today to learn more about how Element Fitness can help you achieve sustainable results.